Description
Push Yourself
ROMIX knee support is ideal for any activity that involves a great amount of stress on the joints like, gym, running, baseball, soccer, basketball, and hiking. Enjoy exceptional knee support while maintaining your peak performance without compromising full range of motion.
Relieves knee pain and protects knee joint

Reduces inflammation, swelling, and soreness

Boosts blood circulation

Ensures faster recovery

Improves athletic performance

Suitable for everyday use
Optimal Compression
The knee sleeve provides pain relief and moderate support for knee problems and protects the knee from future injury or risk of damage. The optimum compression promotes muscular endurance and improves proprioception.
Non-slip Knee Support
Special knitted technology with silicone strips ensures the knee sleeves stay in place during most intensive workouts. Provides excellent stabilizer support whether you are walking or doing a weight squat.
All Day Freshness
Air flow mesh fabric quickly absorbs sweat, moisture and keeps your knee fresh all day long. Designed for everyday use and outdoor activities without slowing you down for a moment. Suitable for both men and women.
Comfortable to Wear
ROMIX knee supports are made of high elasticity breathable fabric, which ensure perfect fit to the legs. Provides smooth feeling and great compression to improve blood circulation and reduce muscle soreness.
Choose the Right Size
To find your correct size, simply measure your knee circumference, 4 inches (10 cm) above your kneecap. Due to the individual differences of leg size, BMI, and preference, you may fall between sizes, in these situations you could order a size up for comfort fit or size down for tight fit.
SIZE CHART:
L: 19.5″ – 21″ | 49.53 – 53.34 cm
XL: 21″ – 22.5″ | 53.34 – 57.15 cm
XXL: 22.5″ – 24″ | 57.15 – 60.96 cm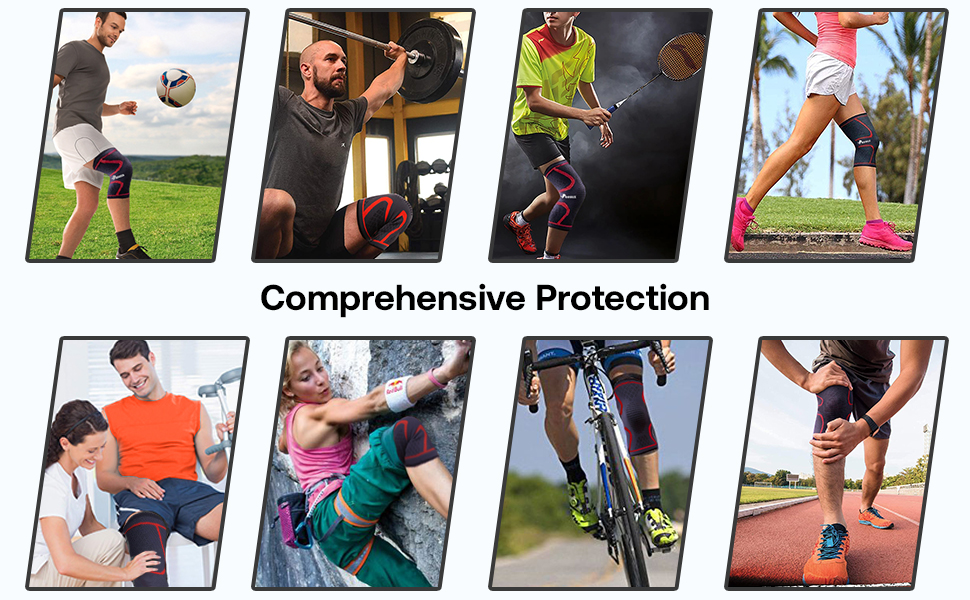 WHY SHOULD YOU CHOOSE ROMIX KNEE SUPPORT?
Allows you to exercise with less pain

Increases your range of motion

Designed to provide a re-alignment to the knee joint

Effectively takes a load off the affected muscle

Facilitates you with a smooth movement

Provides support to the injured cartilage and tendons

Enjoy the optimal amount of compression and warmth

Accelerates the recovery of injured muscles and joints

Stylish and nice-looking appearance

COMPREHENSIVE PROTECTION
Ergonomic design prevents muscle strain, protects ligaments, and promotes mobility. Targeted stabilization of joint muscle tissue and adequate stabilization of knee joints.
FASTER RECOVERY
ROMIX knee sleeves could help alleviate pain from those who are suffering from meniscus tears, patella injuries, bone bruises, osteoporosis, tendonitis, swelling, ACL, MCL, or PCL sprain or tear and general knee soreness from everyday activity. The compression knee sleeve could also help improve blood circulation while promoting healing and a faster recovery
BOOST YOUR PERFORMANCE
Experience the advantage of the compression fabric with the perfect blend of breathable materials. Go get ahead of the game with ROMIX knee support, designed to support your knee, allowing full range of motion. These sleeves are snug, providing excellent support for all rugged activities.
Specification
Colour : Black
Size : L, XL, XXL
Material : Nylon and Spandex
Item Dimensions : 31.2 x 20.2 x 2.3 cm
Item weight :
210 Grams(L)
170 Grams(XL)
220 Grams(XXL)  
Item Model Number :
RM-0126-KSB-L
RM-0126-KSB-XL
RM-0126-KSB-XXL
Product ID:
5060853000058(L)
5060853000065(XL)
5060853000072(XXL)
FAQ